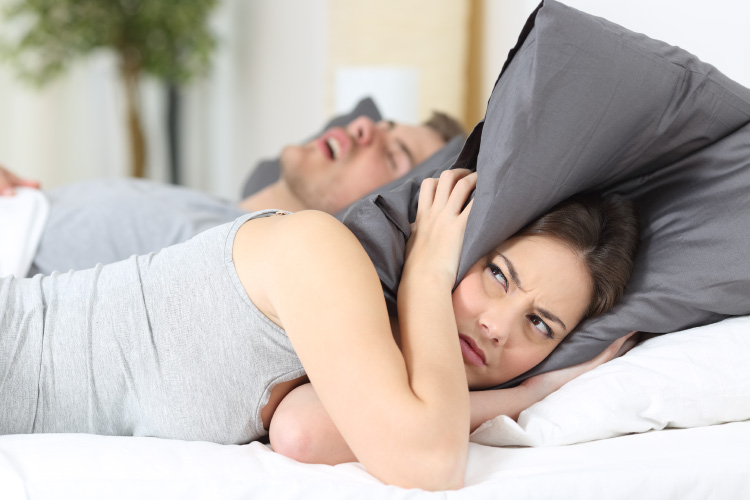 Chances are you have a big snorer in your life. Maybe it's your partner, your best friend, or one of your parents. Or maybe it's even you! It's common for people to snore now and then due to a variety of reasons, from allergies or illness to obesity or sleeping on their back. That being said, snoring all the time could be a sign of a more serious condition called obstructive sleep apnea.
Why Sleep Apnea Causes Snoring
Obstructive sleep apnea occurs when your airway is literally obstructed and you're unable to breathe sufficiently throughout the night. Having an obstructed air passage can also result in snoring. So how does your airway become blocked in the first place? Your throat muscles relax to the point that they actually narrow your airway.
Other Warning Signs of Sleep Apnea
If someone has told you that you snore frequently, keep an eye out for other common signs of sleep apnea in case you have the condition. Do you often feel sleepy and/or irritable during the day? Is it hard for you to concentrate? Do you commonly wake up with morning headaches, a dry mouth, and/or a sore throat? Additionally, ask a partner, roommate, or family member if they notice any pauses in your breathing while you sleep or if they hear you gasping for air during the night.

Sleep Apnea Treatment
Since obstructive sleep apnea is related to the positioning of your jaw, tongue, and throat muscles in your mouth, it's possible to use a special mouthpiece as treatment. Here at Smiles Dental, we can create a custom oral device for you that repositions your jaw so that your airway stays open and you can enjoy restful sleep. So if you think that your snoring might be connected to sleep apnea, take advantage of our limited time $99 Groupon special for an At-Home Sleep Study (valued at $500!), which includes a sleep apnea consultation*, a study kit that identifies dental and health issues related to snoring, and an in-office doctor visit that provides results of your snoring test and a treatment plan.
*Sleep apnea therapy available at the following offices:
Oregon Locations
Camas
Eugene
Milwaukie
Roseburg
Salem
Washington Locations
Hazel Dell
Lacey
Longview
Sedro-Woolley
Contact us with additional questions about sleep apnea or to schedule your consultation!
Contact Us