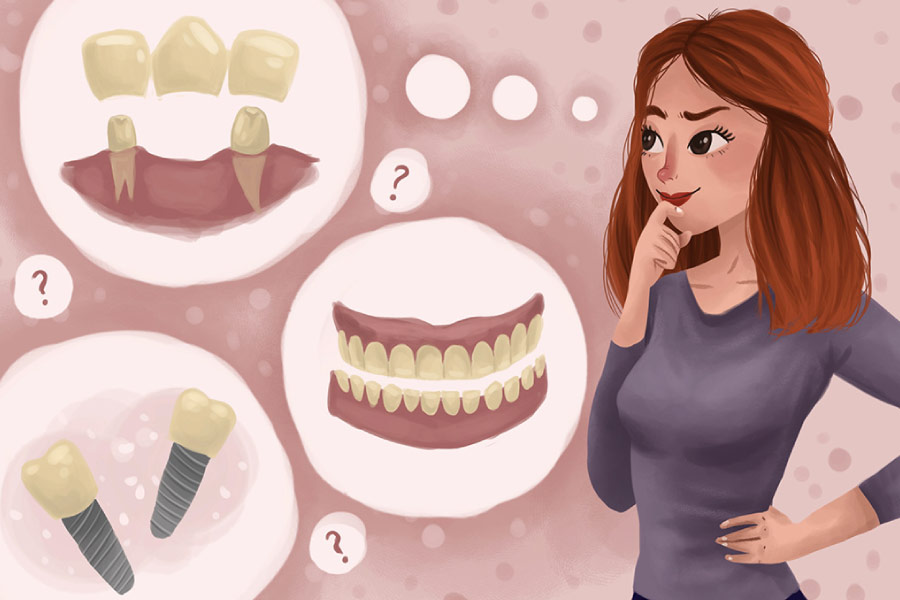 It's always nice to have options—but sometimes deciding between those options may leave you scratching your head. These days, patients have quite a few treatments to choose from when it comes to tooth-replacement solutions. We're asked what the difference is between them. In this blog post, we tackle dental bridges and dental implants to give you an idea of how these two specifically differ.
The Function
Dental bridges and dental implants are both designed to replace missing teeth and are often used when there's just a single tooth missing. Both dental bridges and dental implants will restore your ability to eat, talk and smile with confidence. That said, each goes about it in different ways.
Dental Bridge
A dental bridge looks like a row of artificial teeth where two dental crowns sandwich the replacement tooth or teeth. These two crowns attach to the natural teeth on either side of the gap in your smile. If you have healthy teeth on either side of your missing tooth or teeth, then there is no surgery required.
Dental Implant
When it comes to dental implants, on the other hand, things are a bit different. A dental implant's design more closely matches what a natural tooth looks like. There is the implant post itself which is implanted in your jaw and functions like a tooth root. The implant is topped with a dental restoration that looks like an actual tooth. That means none of your natural teeth need to be filed down or prepared to fit a crown. Plus, your jaw health is supported like a natural tooth. It also means surgery is required.
The Cost & Investment
Dental bridges are the more affordable choice compared to dental implants when looking at upfront costs. Dental implants, however, are designed to last longer. Because of this, some people find that the initial investment pays off for them since they don't have to replace their bridge down the line.
Smiles Dental Will Help You Choose!
You don't have to figure out whether a dental bridge or a dental implant is the more suitable choice for you alone. Smiles Dental is happy to help with that! We invite you to schedule a consultation at one of our Pacific Northwest locations so we can guide you on your smile journey. Call or email us today!